Description
USED 9'6 FT USED 40 FT SEA CONTAINERS (cargo worthy) Sealed / Inspected just outta use
Most Affordable Units in Alberta! Guaranteed!
Only the top quality units at the lowest price no bait & switch!
These units are Wind & Water and rodent proof with No leaks, good door seals, no major rust or dents
Containers fresh out of service. Lowest Price Guaranteed!
Need a Custom Container? Open Top? Steel Lined? Advertising 40 Ft Containers? We do that!
Looking for an Insulated Container or Specialty Container? We do that also!
40 FT HQ CONTAINERS 9'6 TALL 40FTHQ @ $3595.00
40 FT HQ CONTAINER ONE TIME 9'6 TALL 40FTOT @ $5995.00 (NO COLOR CHOICE)
40 FT HQ CONTAINER ONE TIME DOUBLE DOOR 9'6 TALL 40FTDO@ $6995.00 (NO COLOR CHOICE)
ADD 250$ FOR COLOR CHOICE
40 FT GP CONTAINERS 8'6 TALL 40FTLQ @ $ 3495 .00
40 FT GP CONTAINERS ONE TIME 8'6 TALL  40FTLQP @ 5995.00
40 FT HQ MULTI DOOR (5 DOOR) ONE TIME 5DFTHQ @ $12495.00
40 FT HQ MULTI DOOR (5 DOOR) ONE TIME WITH FORKLIFT POCKETS HDFTHQF $12995.00
40 FT HQ 3 DOORS HEAVY DUTY ONE TIME 2DFTHQ @ $12995.00
40 FT HQ 4 DOOR HEAVY DUTY ONE TIME 4DFTHQ @ $12995.00
40 FT HQ ONE TIME 40 FT FULL SIDE OPEN 40OSKHQ @ $17995.00
40 FT HQ ONE TIME 40 FT 2 DOOR LARGE SIDE OPEN 402DOSK $16995.00
20 FT SEA CONTAINERS 20FTCN @ $2795.00
20 FT SEA CONTAINER USED PREMIUM 20FTCNP @
20 FT SEA CONTAINER ONE TIME 20FTOT @ $4295.00
20 FT SEA CONTAINER ONE TIME DOUBLE DOOR @ $5395.00
Edmonton / Calgary only pricing above
40′ High Cube
Exterior
40′
8′
9'6″
Interior
39'5″
7'8″
8'10"
Tare Weight
8750 lb
40′ GP
Exterior
40′
8′
8'6″
Interior
39'5″
7'8″
7'8″
Tare Weight
8450 lb

(ONE TIME 40 FT 5 DOOR)

(ONE TIME 20 FT)

(ONE TIME 40 FT 2 DOOR 2DFTHQ)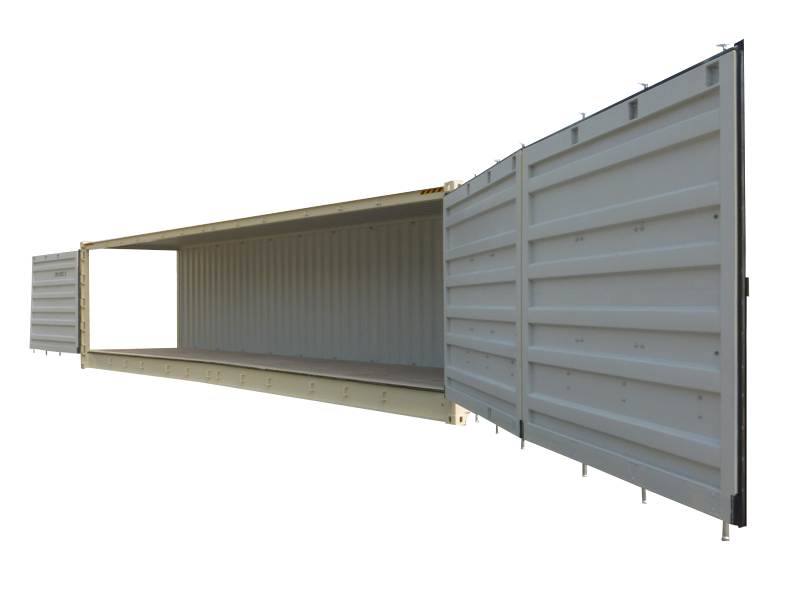 (ONE TIME 40 FT FULL SIDE OPEN)
(ONE TIME 40 FT 4 DOOR 4DFTHQ) (3 STANDARD DOOR + 1 OVERSIZED DOOR)